Overview
Brilliant picture. High brightness.
● Full HD. Clear images. Crisp contrast
● High brightness (2500 cd/m2). Suited to semi-outdoor use
● Automated light output with optional external light sensor
Effortless setup. Total control
● Add Android processing power with an optional CRD50 module
● Remote system management through CMND
● Operate, monitor and maintain with CMND & Control
● CMND & Create. Develop and launch your own content
Versatile system solution
● Energy-saving automatic backlight control
● FailOver ensures content is always playing
● OPS slot allows for PC embedding without cabling
Highlights
Optional OPS Insert to create an all-in-one solution
Turn your display into an all-in-one digital signage solution and create a display network which is connected, intelligent and secure. Open Pluggable Specification (OPS) is an industry standard slot into which you can add an OPS-standardized media player. This cable free solution gives you the ability to install, use or maintain your hardware whenever you need.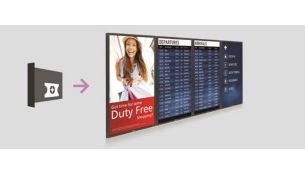 Keep your content up and running with FailOver
Keeping your content up and running is critical for demanding commercial applications. While it is unlikely you will face a content disaster, FailOver provides content protection with a revolutionary technology that plays back-up content on screen in the event of a media player failure. FailOver automatically kicks in when the primary input fails. Simply select a primary input connection and a FailOver connection and your ready for instant protection.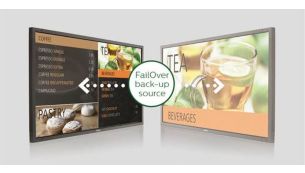 CMND: Take control of your displays
A robust display management platform, CMND puts the power back into your hands. Update and manage content with CMND & Create or control your settings with CMND & Control. It's all possible with CMND.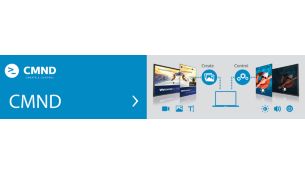 Schedule what you want, when you want with SmartPlayer
Turn your USB into a true cost effective digital signage device. Simply save your content (video, audio, pictures) on your USB and plug into your display.Create your playlist and schedule your content via the on screen menu, and enjoy your own created playlists anytime, anywhere.