Overview
Effortless setup. Total control.
● Operate, monitor and maintain with CMND & Control
● OPS slot allows for PC embedding without cabling
● Schedule what you want, when you want with SmartPlayer
Cost-effective system solution
● Energy-saving automatic backlight control
● Integrated media player. Easily schedule USB content
● Easy control. Remotely manage networked displays
● FailOver ensures content is always playing
Superb picture. Ultra-high brightness.
● Ultra-HD. Rich images. Stunning contrast
Highlights
CMND and Control. Operate, monitor, maintain
Run your display network over a local (LAN) connection. CMND and Control allows you to perform vital functions like controlling inputs and monitoring display status. Whether you're in charge of one screen or 100.
Integrated HTML5 browser. Play and control online content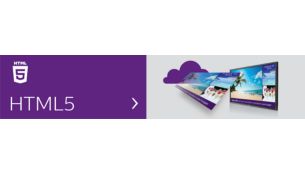 Android SoC processor. Native and web apps
Control your display via an Internet connection. Android-powered Philips Professional Displays are optimised for native Android apps and you can install web apps directly to the display too. A new Android OS ensures the software is kept secure and stays up to date with the latest specification for longer.