Overview
Innovative solutions for any signage application
● Save and play content with internal memory
● Integrated dual-band WiFi
● Android SoC processor. Native and web apps
Maximizing the impact of your message
● CMND: Take control of your displays
● Manage settings of multiple displays with CMND & Control
● Create and update content with CMND & Create
● Connect and control your content via the cloud
Care about you, your business and your audience
● Keep your content up and running with FailOver
● Ensure your content is running with automatic screenshots
● SmartPower for energy saving
Expand your viewing experience
● ADS wide-view panel display
Highlights
CMND and Control. Operate, monitor, maintain
Run your display network over a local (LAN) connection. CMND and Control allows you to perform vital functions like controlling inputs and monitoring display status. Whether you're in charge of one screen or 100.
Integrated HTML5 browser. Play and control online content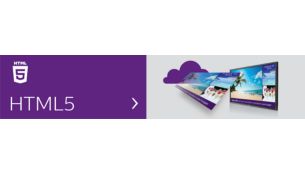 Android SoC processor. Native and web apps
Control your display via an Internet connection. Android-powered Philips Professional Displays are optimised for native Android apps and you can install web apps directly to the display too. A new Android OS ensures the software is kept secure and stays up to date with the latest specification for longer.